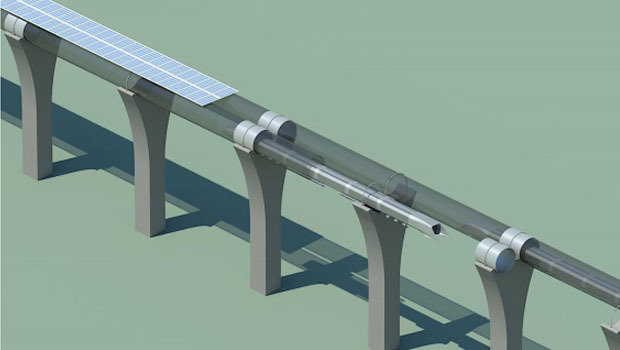 Ever wondered how it would be travelling in a tube, quite similar to pneumatic tubes that are used for sending mail and packages within and between buildings. Weird but quite thrilling, I know. It's nowhere near to another 'cube' or 'hypercube' movie, it is a real world transportation concept, brainchild of Elon Musk, The Stark of our real world.
He has named it the 'Hyperloop'. As mentioned earlier, the system would be like pneumatic tube but connecting cities, which would nearly be 400 miles (643 kilometers) apart, that is, Los Angeles and San Francisco and are saturated with traffic. He asserts that the time taken to reach the destination would be half time less than the airplane.
Inspiration
Talking about his inspiration, he said California's high-speed rail project gave him an idea for his transportation concept. Musk said that he is not all convinced by the rail project, which would happen to cruise at a speed of 125-130 mph.  He further mentioned that it is a big expensive project, which is slower & expensive than alternatives.
Hyperloop Technology
The tubular system would encapsulate a capsule consisting of people and transport them across huge distance. In order to avoid the land issues, the Hyperloop would be placed on elevated columns. The tracks would not cause any problem to the farmers too, they would be able to access their lands in between in the columns.
Capsules, enclosing the favorable environment would hurl all the way through the huge, air free tubular network. Strong magnetic attraction would pull the pods down while they are moving across the conduits.
Quite similar to the puck in air hockey, the pod too creates an air and floats on it. In order to lessen the resistance, a strong fan would be provided that'll suck the air inside the tube to the rear.
One pod will accommodate 28-30 people and depart after every 30 seconds. The projection of cost is around $6 billion and $10 billion for huge pods that'll also accommodate cars.
Over all, the proposed project is four times faster and one tenth of the cost of the  California's high-speed rail project. And it would take nearly seven to ten years to concretize the abstract project.
The Hyperloop would be ecofriendly, as it would run on solar power. Solar panels would be laid on top of the tubes, which would stimulate the movement of pods. The tickets would be cheaper too with respect to plane rides.
We would definitely witness a transportation system which is faster, cheaper, safer, ecofriendly and non-disruptive in nature.
An Ambitious Effort in Transportation
Musk's idea is definitely a breakthrough with respect to the entire transportation paraphernalia that we see today. He is an innovator with an infinite number of successes under his belt, he is not afraid of pushing the limits. If he can put a rocket in space, he definitely can build the Hyperloop, no doubt about it. First he changed the automobile market and now comes the transportation industry.
That's why I mentioned, he is Tony Stark of the real world.  Who knows he might run some planet next!