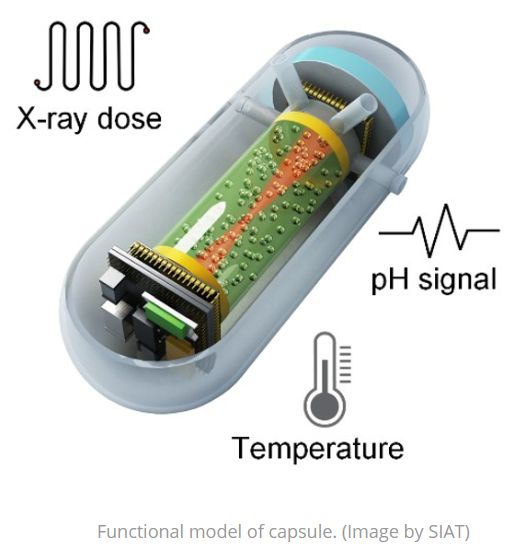 Radiotherapy is all about precision in targeting tumor tissue while minimizing damage to healthy tissue.
To deliver precision radiation requires real time monitoring of the dose till the time it is absorbed. The task is quite challenging, especially if it is in gastrointestinal tract. The dynamic nature of the region makes it nearly inaccessible.
Current approaches used for tracking biochemical indicators including pH and temperature are insufficient to give out comprehensive evaluation of radiotherapy.
Swallowable X-ray dosimeter
To address these challenges, researchers at Shenzhen Institute of Advanced Technology (SIAT), the National University of Singapore (NUS), and Tsinghua University have developed a capsule-shaped swallowable X-ray dosimeter.
The capsule is about 0.2 mm thick and it has a diameter of 5 mm.
Based on radioluminescence and temperature (via neural network-based regression model) the device can evaluate radiation dose. Thus, it can help to improve the accuracy and precision of radiation dosimetry.
According to the team, efficacy of the dosimeter is nearly five times more accurate than standard methods.
Traditional in vivo dosimeters
In labs, dosimeters such as:
metal-oxide-semiconductor field-effect transistors (MOSFETs),
thermoluminescence sensors (TLDs), and
optically excited films
are commonly used to estimate the dose absorbed in the target area during medical imaging and radiation therapy procedures.
MOSFETs are small, semiconductor-based dosimeters that can be attached directly to the skin or placed inside the body to measure radiation dose. They are used in intensity-modulated radiation therapy (IMRT) and stereotactic radiosurgery (SRS), where accurate dosimetry is critical.
While TLDs work by measuring the amount of light emitted from a crystal when it is exposed to ionizing radiation. TLDs are commonly used in radiation therapy and diagnostic imaging procedures.
Optically excited films are often used in diagnostic imaging procedures, such as mammography and computed tomography (CT) scans.
Compared to these traditional in vivo dosimeters, the capsule-shaped swallowable X-ray dosimeter developed by the joint research team offers a novel and potentially more accurate approach to radiation dosimetry, while minimizing discomfort for the patient.

Components of capsule dosimeter
The capsule dosimeter consists of:
a flexible optical fiber encased with
X-ray persistent nanoscintillators,
a polyaniline film, and
a wireless miniaturized luminescence readout system.
The X-ray persistent nanoscintillators can emit light when exposed to X-rays, while the polyaniline film can detect changes in pH and temperature.
Together, these components can be used to estimate the absorbed dose during radiotherapy for gastric cancer and potentially monitor treatment for other types of cancer.
The ability to monitor pH and temperature changes in addition to radiation dose could provide valuable information about the effectiveness of cancer treatments and help to optimize treatment outcomes.
Takeaway
The technology looks promising. By optimizing the size and design of the capsule, the tech can be applied to wider range of malignancies and treatment modalities.
Overall, the development of this capsule-shaped swallowable X-ray dosimeter represents an exciting advancement in radiation dosimetry and has the potential to improve patient outcomes in cancer treatment.