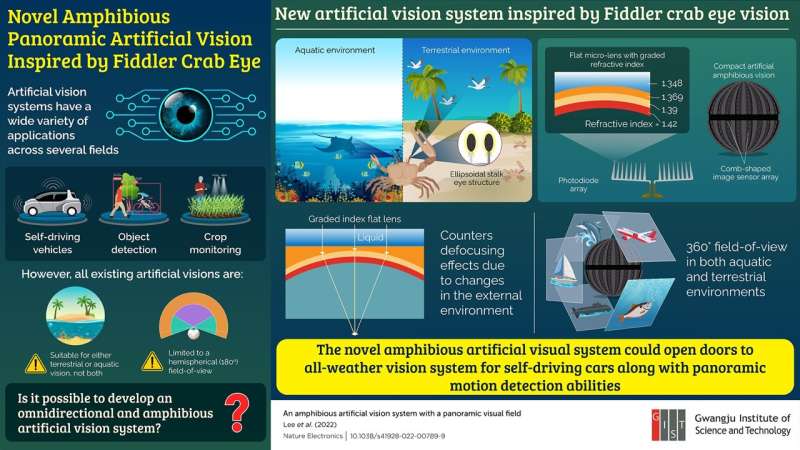 To improve the imaging component in robotics, researchers have been trying to create various types of highly performing cameras, sensors and artificial vision systems.
Most of the vision systems are bio-inspired that is, they have been emulated from the systems and elements of nature including humans, animals, insects and fish. These systems, however, have their own restrictions because they operate in limited environment respectively. For instance, majority of (bio-inspired) existing sensors and cameras works either one of the following scenarios:
on the ground like biomimetic eye with a hemispherical perovskite nanowire array retina, and
within aquatic environments the robots use acoustic signals
but vision systems that can operate on both environment is yet to fabricate.
Inspiration from the eyes of fiddler crabs
In an international collaboration between the Institute for Basic Science (IBS), Seoul National University, Gwangju Institute of Science, Massachusetts Institute of Technology (MIT) and the University of Texas at Austin, researchers have developed a revolutionary system of vision based on the eye mechanism of fiddler crab.
A crustacean whose eyes can easily adapt on the ground and in water. Idea behind this interesting phenomenon inspired researchers to create a replica of similar mechanics.
Fiddler crabs also known as calling crabs have compound eyes. With the help of hexagonal mini eyes, these crabs are able to capture a mosaic of repeated, blurry pictures than a single image. Additionally, they can gain nearly 360 degrees view of their surroundings without having to move their eyes and body.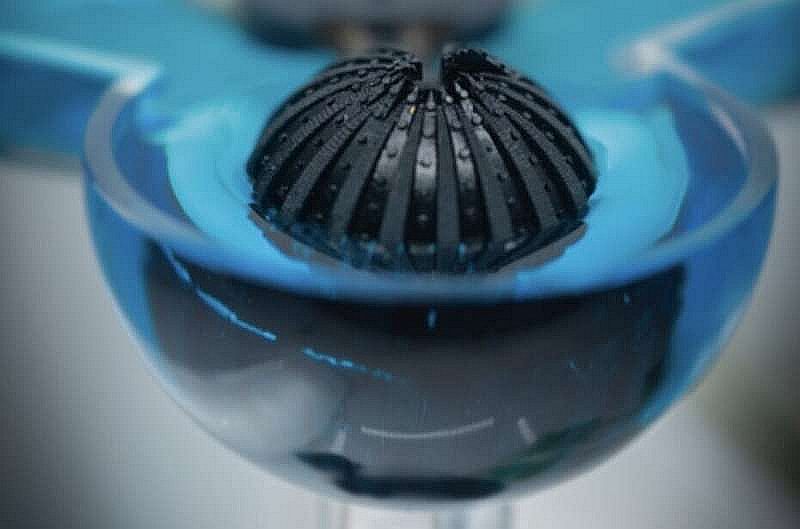 Crab eye lens
To replicate the mechanism, researchers employed a flat camera lens than conventional lens. Point of focus changes in traditional lens with curvature when the lens is dipped in water. While there is not much difference in focal point when lens with a flat surface is in question. One can see clear image both on ground and in water. Fiddler crab has this type of flat surface lens which inspired researchers to imitate.
To create the compound eye effect, researchers combined an array of flat microlenses with a graded refractive index. And an arrangement of flexible comb-shaped silicon photodiodes (PN-junction diode that consumes light energy to produce an electric current) on a spherical structure.
The microlenses can not only increase the light collection efficiency but they can also preserve their focal length regardless of the external refractive index between air and water.
According to Young Min Song, the lead researcher, their concept to demonstrate amphibious and panoramic vision simultaneously, is a pioneer in all-weather vision system.
Takeaway
As for the next step, the researchers are looking forward to achieve higher resolution and superior imaging performance.
Scientists envision that their technology will bring about 360° omnidirectional cameras that could be used in:
virtual reality
augmented reality
an all-weather vision for autonomous vehicles
amphibious robotics
hybrid bots
crop monitoring
So far, the technology sounds promising. And researchers have already tried and tested it in various optical simulations and imaging demonstrations. The system has shown positive response in both terrestrial and water environments. Very soon it will be implemented on various bio-inspired robots.